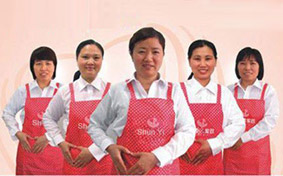 Guangzhou San Yi Housekeeping Co.,Ltd, one concerning foreign affairs housekeeping service company by a senior Chinese in the experience to the homeland personage ' s management of investment.
In order to ease your living in china we would help solve your inconvenience, including visa, renting houses, IP telephone, a professional services company engaged in product protection, property management, housekeeping services and so on, we really treasure our relationship with our clients, and their pets too our goal is to make you and your home happy!
The main is provided full series of professional quality home services including nursemaid, baby care, pregnant care, tutor and timework, affordable and secure residential cleaning services to the Guangzhou.
The housekeeping personnel that many ones of our company is well educated are engaged in the experience that the housekeeping has been served for many years in the foreign family.
Our house cleaners will arrive at your home with all the necessary supplies, training, and equipment to do a great cleaning at your home. Our house cleaning staff is professional, energetic and well trained. We make sure that your house is cleaned with attention to even the smallest details.
The company's great efforts to offer high-quality, omnidirectional housekeeping service for users, remove difficulties and alleviate suffering for you. Virtual Canton Fair Online